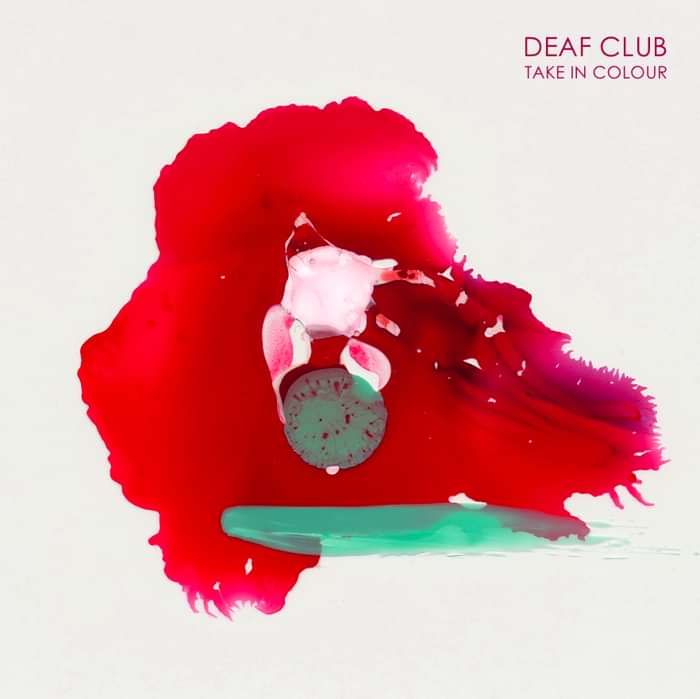 DEAF CLUB - TAKE IN COLOUR EP (KISS017)
Available on 10" vinyl plus download. Limited to 250 copies.
"Few new bands induce goosebumps in the way that Deaf Club do. Among the glut of fresh acts, they're special." - The Guardian
"Deaf Club layer sound upon sound to blur their songwriting into a hallucinatory experience… They move in unexpected directions which demonstrate a real bravery." - Clash
"Brooding atmospheres and rising tensions that run deep" - Abeano
"...tense build-ups to almighty climaxes are unique juxtapositions of icy understatement and unrepentant energy" - The Fly Deaf Club are due to release new EP Take In Colour, via Transgressive imprint Kissability on 5th August, the single 'Apri' follows a week later on August 12th. Premiering a selection of the tracks at a special night at their local drinking-den, The Dalston Victoria in late May, the sold-out room witnessed the becoming of a band, two years in the making.
Never wanting to ride a wave of trend or hype, Deaf Club made a conscious decision to work at their own pace. Take In Colour however was written and self-recorded in a matter of days, after aborting previous studio sessions with an outside producer. The accelerated working method focussed the band, heightening their melancholic, deeply textured songwriting.
Emerging in the summer of 2011, Deaf Club began life with minimal online presence, letting their debut EP 'Lull' gain them swift and critical acclaim - seeing them become both blog-darlings and broadsheet favourites before they had even a single press photo. The self-recorded, self-released collection of four songs accurately represented, as the Guardian describe, "a band packed with potential and huge ambition". The London-via-North Wales four-piece have since released sold-out singles with Too Pure and Kissability; gained plays and sessions across Radio 1, 6 Music and Xfm. and captured hearts and minds with their intense live shows.
Please note, there may be a few tiny scuffs on the cardboard sleeve due to the number of times these have moved house with me.